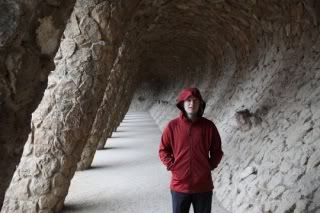 written in Paris
Thorugh the day people tell us our songs (My Humps and Don't Stop Believing
) were the best. I think our popularity was heavily swayed by Kelli's booty dancing. We miss brunch with the German girls from the night before.

We eat again at the same tapas place as before. The food was good, the waitress mean. Not sure why exactly though in Spain waiters and waitresses are not tipped so there is less incentive. We head to Park Gruell a park constructed over 15 years by Antonio Gaudi.

O ya it was raining HARD. My feet are soaked but I still thoroughly enjoy the park taking in the curved lines and natural features of his work. Upon our return we whip up some homemade pizza. The first one is a disaster, but the second turns out great. Both taste good. We also decide to teach some Brits danger ball. They are terrible. We blame this on their lack of hand-eye coordination due to soccer being their countries sport. They become more mad, and lose two more times. AMERICA F*** YA!

David and I prepare to go out partying for one last night and as we step out into the heavy rain head back. It's already 1am and we have a flight around 9:30. Not worth it.